What can be learned from the first few weeks of the NBA season?
Back on November 14th of 2013, the Philadelphia 76ers were riding a wave of optimism after beating the Houston Rockets (who would finish 54-28) to improve their record to 5-5. The Sam Hinkie/Brett Brown era was off to a decent start, on the back of their first-round pick and eventual rookie of the year Michael Carter-Williams. Was this team a team on the rise who would make things difficult on opponents all season long, or the poster child for sample size theater? It wouldn't take long to find out, as between Jan 31st and March 27th they would go on to lose 26 consecutive games on their way to finishing 19-63.
Things get weird when you focus on a random 10 game sample, and while 10 or so games into the season are too early to make sweeping conclusions on the strength of a team, that does not mean there are not things to be learned. Today we will discuss three things I like to look at to get a better feel for teams early in the season.
Adjusted Net Ratings
While there is ample evidence that teams can influence the type and location of shots that their opponents take, there is not a lot of evidence that teams have an influence on the percentage that a team shoots from three. Over the last 3 seasons, all but 5 teams have allowed between 34% and 38% on opponent three-point shooting. This season, teams are shooting an average of 35 three-pointers per game. A team allowing their opponents to shoot 30% on these shots, as the Knicks have thus far, would be "saving" an average of ~6 points per game vs a team that was giving up the league average of 36% from three. On the opposite end of the spectrum, we have a team allowing their opponents to shoot a blistering 41% from three, as the San Antonio Spurs currently are, which if we adjust down to 36%, would improve a team's defense by ~5 points per game.
To rectify the issue of opponent hot or cold shooting in the early season, we have adjusted each team's defensive rating to what it would be if that team was allowing opponents to shoot the league average of 36% from three-point range. We have also added a slight adjustment to each team's offensive net rating to account for poor/good three-point shooting. Any team shooting below 34% from three was rounded up to 34%, while any team shooting greater than 38% was rounded down to 38%.
The chart below shows each team's current offensive, defensive, and net rating (taken from Basketball-Reference), as well as a rating of their strength of schedule (the larger the number the tougher the schedule). A team's 'Simple Rating' is just their adjusted net rating plus their strength of schedule.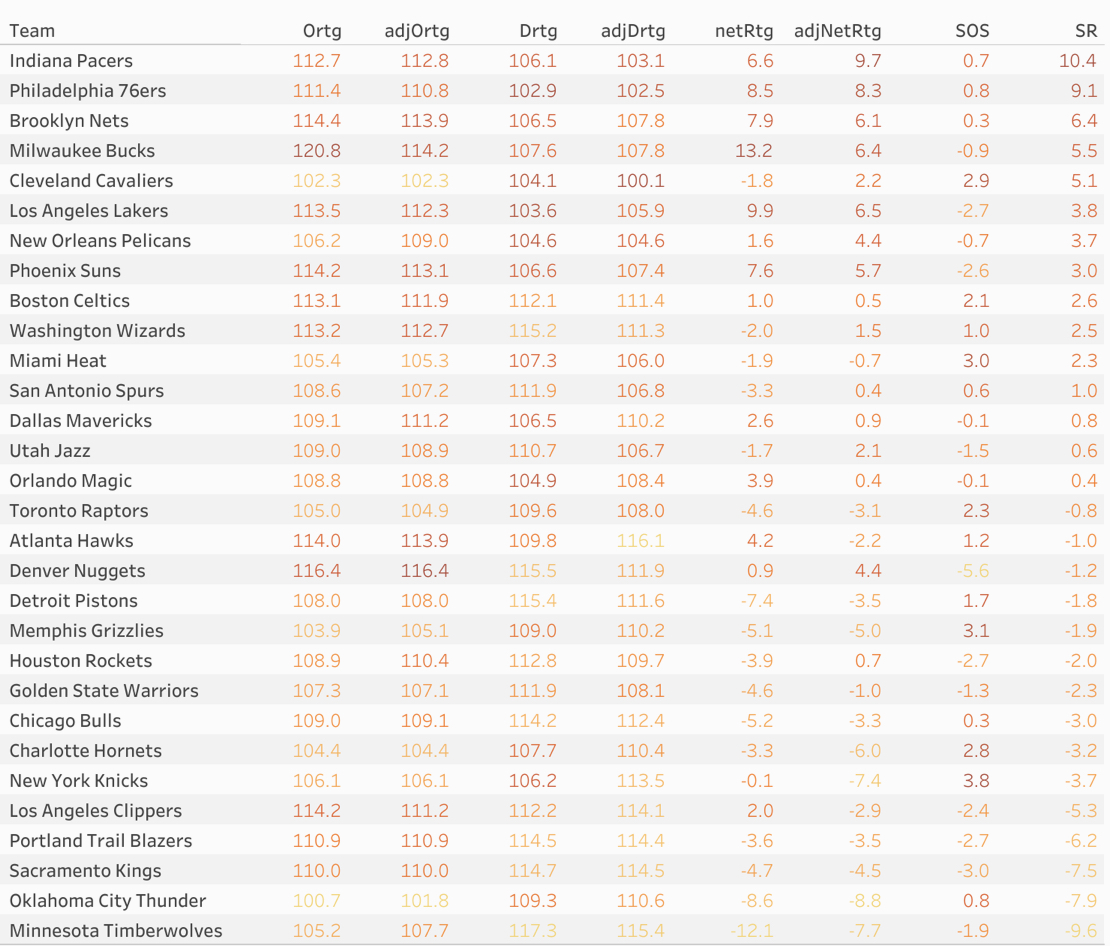 Shot Locations
So while we have learned that teams cannot necessarily impact how well opponents shoot from three, we do know that teams have an ability to influence the types of shots that they and their opponents are taking. We know that mid-range shot attempts are not necessarily "bad offense", but we do know that teams generally prefer to get shots either at the rim or from three. We can call the spots where teams take their shots their "Shot Profile" and while not every team needs to be the Rockets, there is a correlation between how often a team shoots from either the rim or from three-point range, and how good their offense will be. The benefit of looking into this is that a team's shot profile tends to stabilize after only a few games, as opposed to the results of those shots, which can be noisy in small samples. There is a great table put together by Krishna Narsu over at Nylon Calculus that shows how long each stat takes to stabilize, the crux of which is that "what you do" tends to stabilize much earlier than "how you do".
Where do teams take their shots?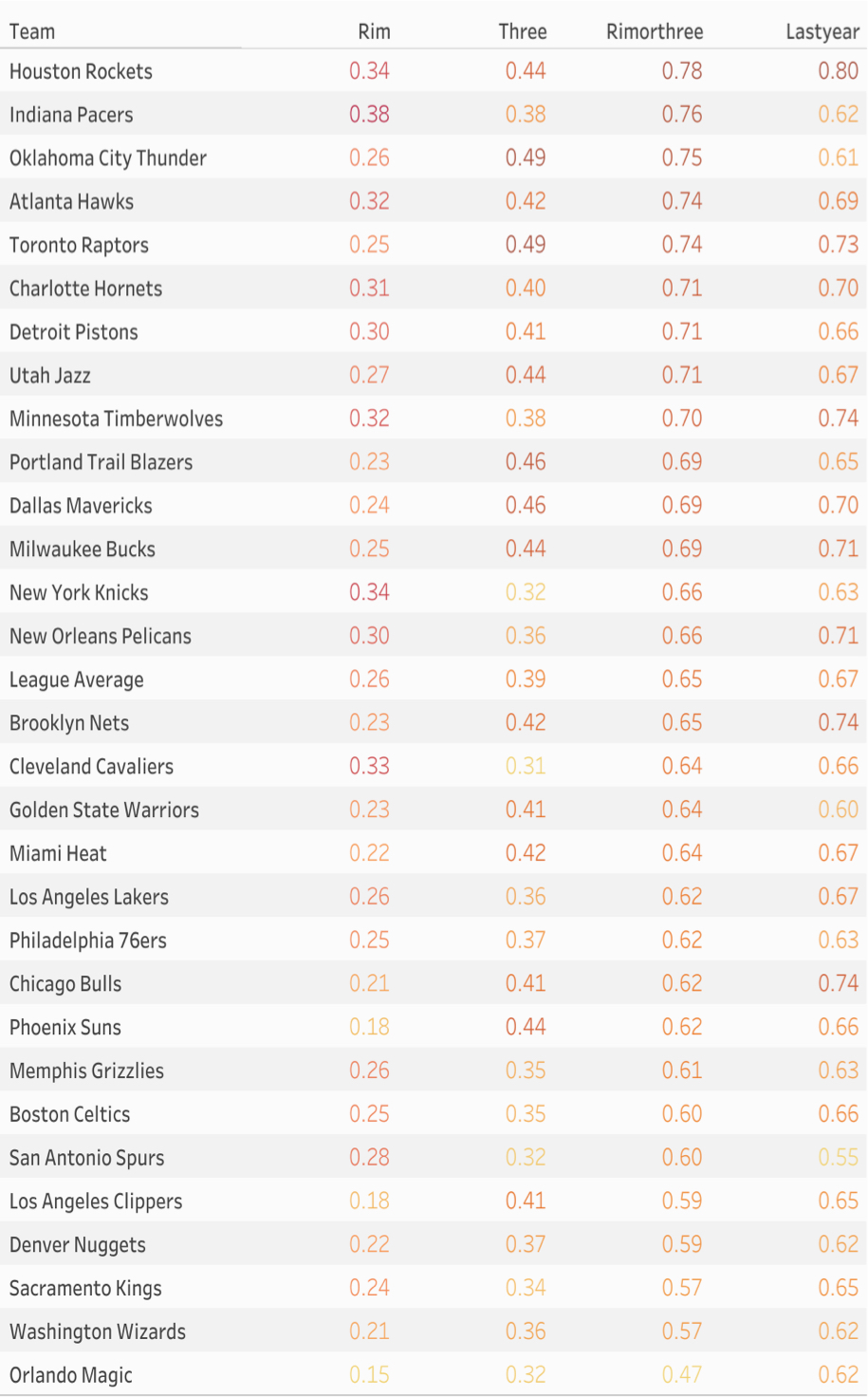 Who's Playing Crunch-Time?
One of my favorite tools to analyze early on in a season is Darryl Blackport's PBPStats to look at what players coaches are using when it comes to crunch-time. For these purposes, I consider crunch-time to be; last 4 minutes of the 4th quarter or OT and the score within 10 points. PBPStats also has a feature to adjust for the leverage of the situation, which we will use to eliminate all "low" value possessions. Here is an example of the filters I like to put into place when looking at each team's late-game lineups.
What can we learn from this? Probably not a whole lot to learn about a team in general, but it does give us a good idea of who coaches trust the most when it comes down to it. Some players that coaches have gone to in crunch time thus far who have caught my eye include:
The Great Facundo Campazzo (bizarrely alternating between crunch-time and DNP)
De'Andre Hunter *
Timothe Luwawu-Cabarrot *
Jalen Brunson
Jae'Sean Tate
Desmond Bane
Immanuel Quickley
Tyrese Haliburton
* denotes that player has played every minute of crunch-time thus far